How to Request a Refund for a Meet Entry
Members can initiate a refund request prior to the start of the event. Once a refund request has been initiated for a meet nomination it will remove the entry from the meet and can only be cancelled by contacting your state administrator.
It is recommended that you check the Host Club's refund policy as requests may be declined.
1) Login to Swim Central and select the padlock at the top right corner and enter your PIN
NB. If you are an individual not attached to a family group there will be no padlock or pin

2) Locate the meet, swimmer and event you wish to request a refund for.
3) Select the 'Entered' button and you will be taken to the relevant purchase order under Order History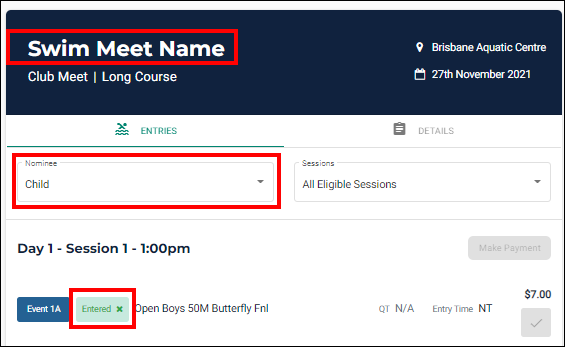 4) Confirm you have the correct purchase order for the event with the details of the purchase order showing on the righthand side screen.
5) Select refund next to the event that you would like to request a refund for.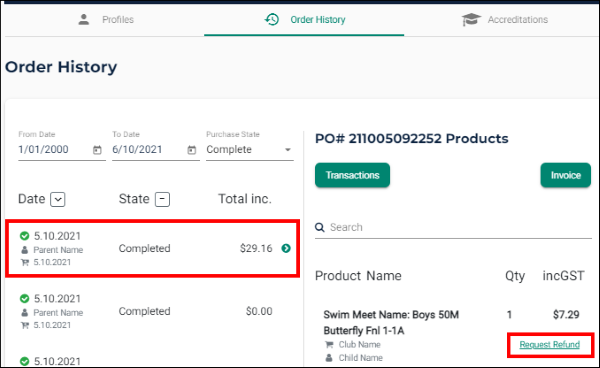 6) A pop-up screen will display, input the reason for the request, confirm the details then select 'Continue'
Please ensure a valid reason for the refund is completed. If not provided your request may be declined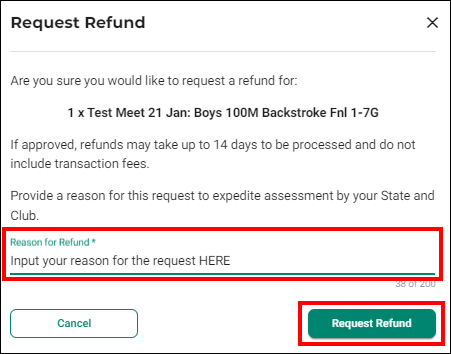 7) The request will be sent to the Host Club for approval.
8) A 'Refund Pending' status will display next to the event.

9) Approved requests may take up to 14 days to be processed and transaction fees will not be included in the final refund amount.
10) The progress of the refund request will display on the purchase order.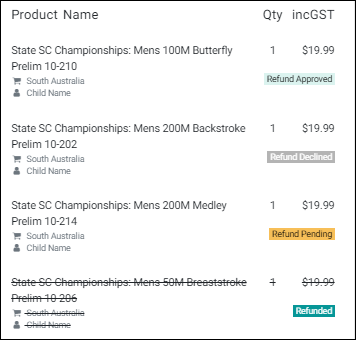 If your credit card has changed since the original purchase and you have refunded a purchase:
If the new credit card is with the same provider as the old card- the funds should be directed to the new card
If the credit card has been replaced with a new provider, the old provider may hold on to the refund, or redirect back to Swim Central. We recommend contacting the provider for further details.