How to Request a Refund for a Meet Entry
Members will only be able to initiate a refund request on meets that have been setup to allow refunds and prior to the meet finishing.
STEP 1.
Login to Swim Central and select the padlock at the top right corner and enter your PIN
STEP 2.
Locate the meet, swimmer and event you wish to request a refund for.
Select the 'Entered' button and you will be taken to the relevant purchase order under Order History
STEP 3.
Confirm you have the correct purchase order for the event with the details of the purchase order showing on the righthand side screen.
Select the refund icon next to the event that you would like to request a refund for.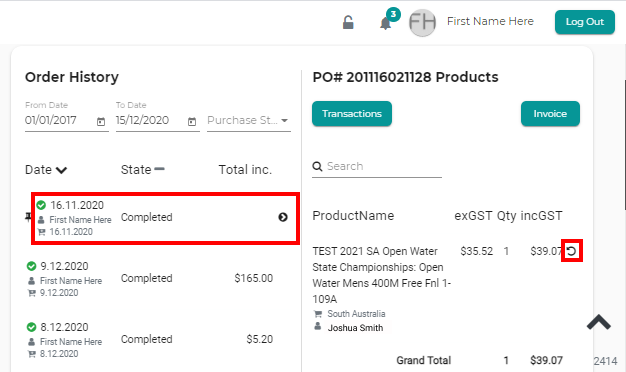 STEP 4.
A pop-up screen will display, confirm the details then select 'Continue'
STEP 5.
The request will be sent to the Host Club for approval and a 'Refund Pending' status will display next to the event.

Approved requests may take up to 14 days to be processed and transaction fees may not be included in the final refund amount.
The icons next to the line item in the invoice will display the progress of the refund request.
The question icon means the refund is pending. The refund request has been sent to the Club that sold the product to you and is awaiting approval.
The green tick icon means the refund has been approved by the selling Club and is awaiting refund transaction processing.
The green dollar icon means the refund has been processed and the money will be returned onto the card the purchase was made with.
This red x icon means the refund has been declined.