Hosting a Meet - Meet Entries, Products and Results
Please see the information below on what to do when meet entries close
1. Viewing Attendees & Exporting Entries
2. Distribution of Entry Lists/Results
3. Event Dashboard Status Definitions
4. Event Attendees Status Definitions
5. Event Product Status Definitions
7. Check for Unmatched Results
1.

Viewing Attendees & Exporting Entries
You can view and export a list of attendees at any point
From the the Event Dashboard.
Select the 'Total Attendees' tile
You will be taken to 'Extra Information' Tab and a list of Attendees will display for your meet
From the accordion you can see an individuals nominations and the status.
Nom Successful: Nominations are successful
Relay Only: Participant is competing in a relay only
Visitor: Participant is outside of your Home Pinnacle
Entry Fee: Participant has requested a refund for one/all of their nominations
Entry Membership: Participant's membership has been refunded/force expired or suspended
Payment Received: Payment has been successful
Approval Pending: Approval of a document is required in order for nomination to be successful


Select 'Attendees Report' to be emailed an excel report


After your meet closes, to obtain the entries (Meet Manager .hy3 nominations file) select the 'HY3 Entries button from the top left corner of the Event Home screen.
The export process can take some time, so there may be a delay
You will receive an e-mail from Swim Central once the HY3 nominations file has completed processing.
Please DO NOT click this button multiple times as it will create a request each time, causing a large backlog of requests for all who are using the system. If you do not receive the entry file within 4 - 6 hours please contact support at Support@swimming.org.au

2.

Distribution of Entry Lists/Results
Swim Central has the capability to make a document accessible to all clubs that have associated themselves to your meet, as well as swimmers attending your meet. For example, this feature could be used to:
Provide the entry list to all clubs and members after entries close
Provide the timeline to all clubs and members after entries close
Provide the program of events to all clubs and members after entries close
Provide the swimmers results file after the meet has occurred
Provide the Team Manager Results file for other clubs to download
To provide a document,
Select Extra Information Tab
Select 'Documents'
Select Add Document


Upload your document
Tick 'Visible to Attendees' on ONLY if the document is to be visible to swimmers
Swimmers will have access to the documents from the Event's Details Tab.
3. Events Dashboard Status Definitions
Pending Approval: Your meet is yet to be approved by your ancestor
Approved: Your meet has met the requirements and is approved by your ancestor
Pending Verification: Your meet results are yet to be approved by your ancestor
Verified: Your meet results have been uploaded and verified by your ancestor
Rejected: Your meet has not met the requirements and has been rejected by your ancestor
Draft: Event is yet to be published to Swim Central and is still able to be edited
Hidden: Meet is hidden from the calendar - 'Show in Catalogue' unticked
4. Event Attendees Status Definitions
Red 'Entry Fee' status:
Payment about to be refunded, pending refund approval,
Incomplete purchase order from the member side.
Red 'Entry membership' status:
Refund request submitted for the membership
Membership has been refunded after nominations completed
Membership has been force expired/suspended
5. Event Product Status Definitions
Required: Product required to enter the meet upon nomination. This product is available to purchase until nominations close.
Unreleased: Product not published to the member view or store
Released: Product published to the store/event page and available for purchase. Unassisgned products are available to purchase up until the last day of the meet.
Withdrawn: Product is withdrawn from sale and removed from the store
To monitor the sales of your products or tickets, navigate to the Event, Extra Information tab and expand the Products section. From there, you can access the 'Evt Product Report', which will list participant details and the corresponding products or tickets purchased, including the quantity of each item. Once you select the report, it will be sent to your email address.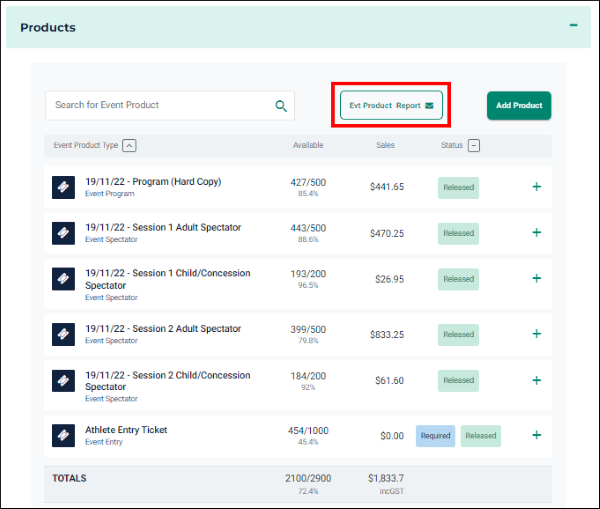 6.

Uploading Results
After your meet has run, export the results file in Meet Manager by selecting File > Export > Results for Swim Manager or SWIMS or NCAA or USMS and save the results file
to upload your results into Swim Central from the Event Dash screen select Results > Import Results

Locate the 'Meet Results' file you exported and saved from meet manager
Select 'Next' and then 'Queue'
This results file

will be added to a queue

ready to be imported into Swim Central.
The import process can take some time, so there may be a delay before results information will become available for public viewing.
You will receive an e-mail from Swim Central once this file has completed processing.
After results have been uploaded, they need to be verified by your State.
If required by your state, please ensure that results (both the Meet Manager Backup file and the TM Results file) as well as any other documentation are emailed directly to your State, as soon as possible after your meet has run, as verification won't occur until the results have been received.
QLD - results.qld@swimming.org.au
NSW - admin@nsw.swimming.org.au
VIC - events@vic.swimming.org.au
TAS - tanya.cowen@swimming.org.au
7. Check for Unmatched Results
To view your results import summary

From the Event Dash Screen
Select Import Summary from the Results dropdown list
Confirm you have no unmatched results.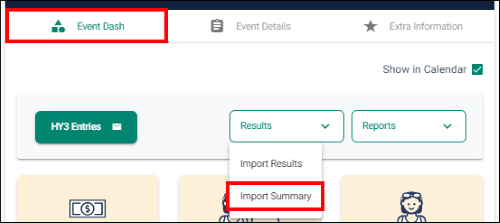 Unmatched results usually occur for three reasons:
Incorrect DOB in either meet manager or swim central
Different spelling of a name between meet manager and swim central
Duplicate profile in Swim Central
No profile match
It is up to the meet host to contact the club concerned and ascertain the correct information and rectify the meet file or have the parent update their swimmers' personal details in Swim Central.
Once you have the meet file correct you can reupload the meet results but they will need to be reapproved and verified - Please contact your administrator to advise.