How Do I Create a Direct Link
In Swim Central, it's possible to generate a direct "clickable" link, to allow potential participants direct access to nominate for your meet in Swim Central. This direct link can be emailed, placed within a flyer or on a website.


1) Login to Swim Central and select 'Administration'
2) Enter your Administrator Pin and Family Pin (If required)
3) Select 'Events' from the left hand navigation panel or select the 'Live Events' tile.

4) From your Events Dashboard, select the event you wish to create the direct link for from the list, to access the Event's Dash Screen.

5) From the Event's Dash Screen, you can copy the direct (bounce) link by selecting
the 'Event Bounce Link' above the meet name.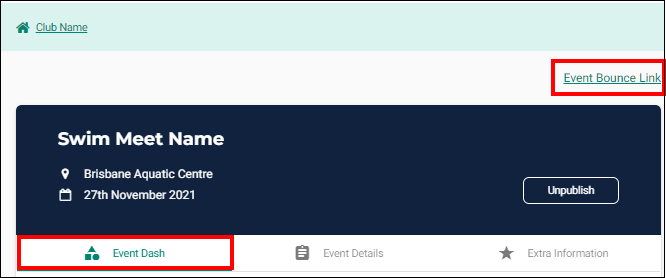 WHAT HAPPENS WHEN A MEMBER USES THE DIRECT LINK?
After clicking the link, they're directed to the Swim Central sign in page (if not already signed in).
Once they've signed in, they're taken directly to that meet
When nominations are open they are taken to the entries page where they complete the nomination workflow process for the first family member and they repeat the nomination workflow process as needed, to complete nominations for all family members.
We encourage clubs to remind their members to ensure that they proceed to the final confirmation screen (Thank you for your Purchases) for family member's nominations to avoid creating a pending payment.

Before and after nominations the link will take them to the Meet 'Details' tab