How To Graduate A Dependent
A dependent can be graduated once they are over the age of 18. This requires them to setup their own unique Swim ID (Email) and login details. Graduated dependents can be managed either, by the Primary Account Holder or the graduated dependent.
STEP 1.
Once a child has come of age (turned 18) an alert 'Family Group Activities Pending' will display on the family dashboard. Select the arrow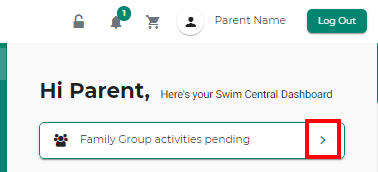 STEP 2.
Select 'graduate' and enter your 'Family PIN'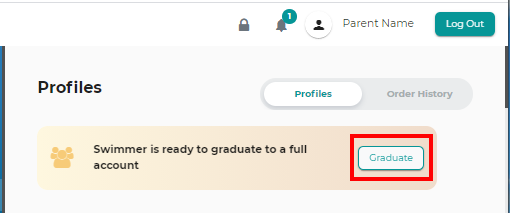 STEP 3.
A pop-up screen will display.
Enter the dependent's nominated email address and select 'Graduate Account'.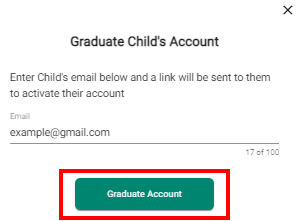 NB. You can only nominate an email address once.
STEP 4.
An email will be sent to the dependent inviting them to graduate as an adult on Swim Central. There is a link to 'Go to Password Setup'.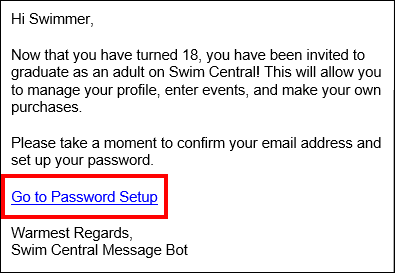 STEP 5.
The graduated dependent then needs to complete the Forgot your password process, using their unique email address and send request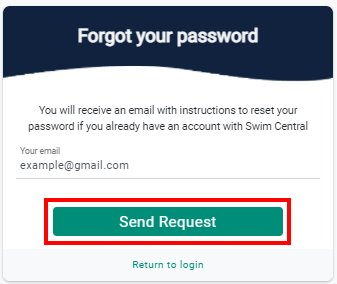 If their Swim ID can be located, they will receive an email containing instructions for resetting their password.
STEP 6.
Once they have confirmed resetting their password they can return to the login page and sign in for the first time and confirm the Ts & Cs.