How To Add/Remove a Member From Your Family
If you wish to add an existing member profile whose over 18 to your family group, you will need to confirm that the other independent member is a Primary Account holder of their own current Swim Central account. Once this has been confirmed please follow the steps below.
1) Log in to Swim Central and select 'Profiles'.
2) Select + Account Holder and enter your Family PIN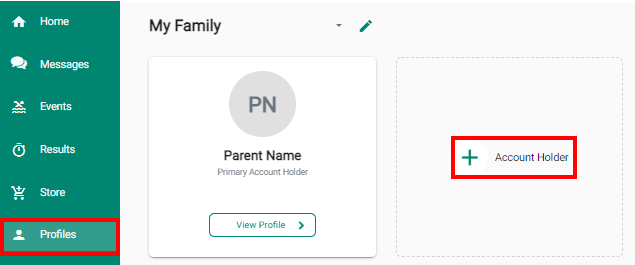 3) A pop-up window will show and enter the 'email address' of the member
4) To give permission for this member to 'edit and purchase for family members' make sure the box is ticked. If you don't wish to grant permission untick.
5) Select Invite and a pop-up screen will appear at the bottom displaying 'Invite Sent to…………'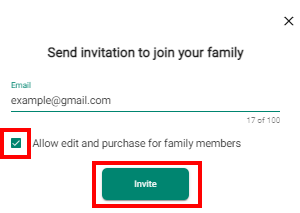 6) The recipient will receive a notification 'Family Group Activities Pending' on their dashboard as well as an email invite. Select 'Go to Profiles' OR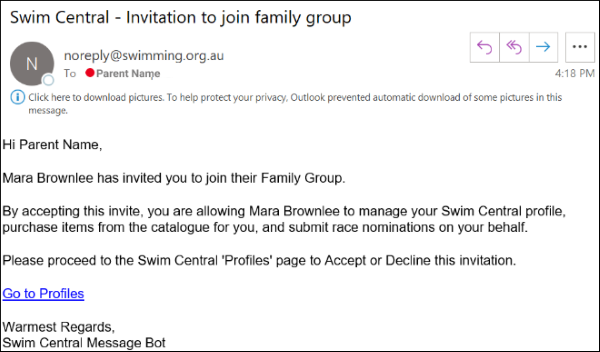 7) select the arrow from your dashboard notification

8) On their Profiles page will be a notification inviting them to join the Family.
9) They can Accept or Decline this invitation.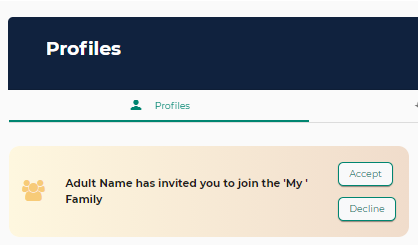 10) Once they accept, they will then have access to your family.
11) They are then able to switch between Family groups from their 'Profiles' page by selecting the arrow down icon next to the family name and choose the family they want to view.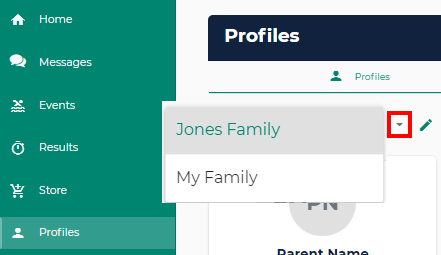 NB: For you to see their Family, make purchases and edit, an invitation needs to be sent to you.
HOW TO REMOVE A MEMBER
To permanently 'Remove' a member from the Family Group
Select the 'vertical dots' at the top of the profile tile and select 'Remove'
Enter the Family Member Name and select Confirm
Warning once the member has been removed you will lose all of the profiles data and results and be unable to add them again.